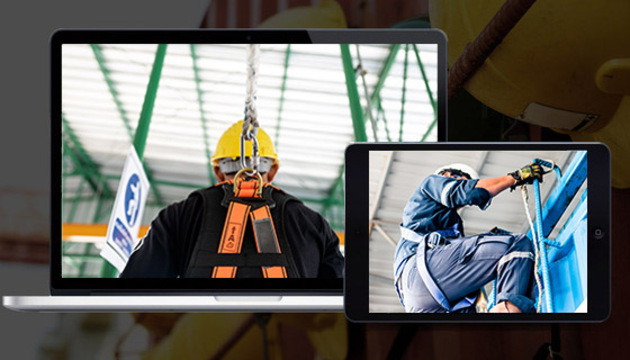 Fall Protection Online Training
Description
Our online Fall Protection Training course provides workers with an understanding of workplace fall hazards, safety measures, and fall arrest legislation. Additionally, the course looks at industry standards and other applicable legislation.
The Fall Protection Training course discusses the theoretical and practical aspects of using fall protection equipment with a focus on multiple industries including Construction, Oil and Gas, Telecommunication, Drilling and Service rigs, Power Generation, and Industrial Environments.
Why is Online Fall Protection training important?
Workers must have training in fall arrest and travel restraint because falls are one of the leading causes of injury on worksites. The equipment that is used for fall arrest and travel restraint can be hazardous if not used correctly.
What will I learn in Fall Protection training?
Fall arrest and travel restraint and the two different types of systems discussed in the training course. Fall arrest stops the progress of a fall and travel restraint prevents a worker from getting to the edge of an area where a fall could occur. The course also looks at other methods of protection such as control access zones, guardrails, work positioning, and safety nets.
Additional topics discussed in this course include:
common workplace fall hazards
fall protection lanyards, retractable equipment, anchor connectors, vertical lifelines, and harnesses
fall protection plans
fall rescue planning requirements
fall protection legislation
emergency response planning
This Fall Protection course is approximately three hours long. Upon successful completion, participants will receive a certification card.
Practical Evaluation After completing this course, it is recommended that you obtain practical evaluation by a qualified individual. Our practical evaluation can be accessed here.
Course Outline
Chapter 1: Fall Protection Fundamentals
Chapter 2: Anchor Systems
Chapter 3: Connecting Components
Chapter 4: Harnesses
Chapter 5: Designing a Fall Arrest System
Chapter 6: Special Fall Protection Situations
Chapter 7: Equipment Care, Maintenance & Inspection
Chapter 8: Fall Protection Planning